Website Hosting for 2.75 per month:
Advanced Worldweb Design
offers a complete panel with any hosting account, and many add-ons to assist you in creating and maintaining a fully functional and
up to date website.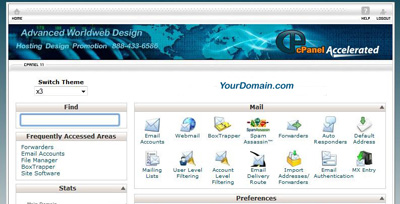 View Demo Username: x3demob Password: x3demob
Some features include:
52+ FREE scripts
Instant script install- Easy Upgrades- Very PopularWith a click of the mouse, you can instantly install a script without any programming knowledge.
Blogs
b2evolution
Nucleus
WordPress
Content Management
Drupal
Geeklog
Joomla
PHP-Nuke
phpWCMS
phpWebSite
Post-Nuke
Siteframe
TYPO3
Xoops
Customer Support
Crafty Syntax Live Help Help Center Live HOT!o sTicket Perl Desk
PHP Support Tickets
Support Logic Helpdesk
Support Services Manager
Forums
phpBB3 HOT!
SMF
E Commerce
CubeCart
OS Commerce HOT!
Zen Cart
NO EXTRA HOSTING CHARGE for Shopping Carts. No extra charge for shopping carts. Some companies charge extra for that.

Mailing Lists
PHPlist
Site Builders
Soholaunch Pro EditionTemplates Express
Wiki
TikiWiki
PhpWiki
Other Scripts
Dew-NewPHPLinksMoodle
Noahs Classifieds
Open-Realty
phpAdsNew
PHPauction
phpFormGenerator HOT!
WebCalendar
Project Management
dotProject
PHProjekt
Image Galleries
4Images Gallery
Coppermine Photo Gallery
more…
Price:11.99 a month (paid
yearly).

Add search engine
promotion to above hosting plan 10.00 (monthly) for 12 months.

Price:14.99 a month (paid
quarterly).

Add search engine
promotion to above hosting plan 10.00 (monthly) for 3 months.